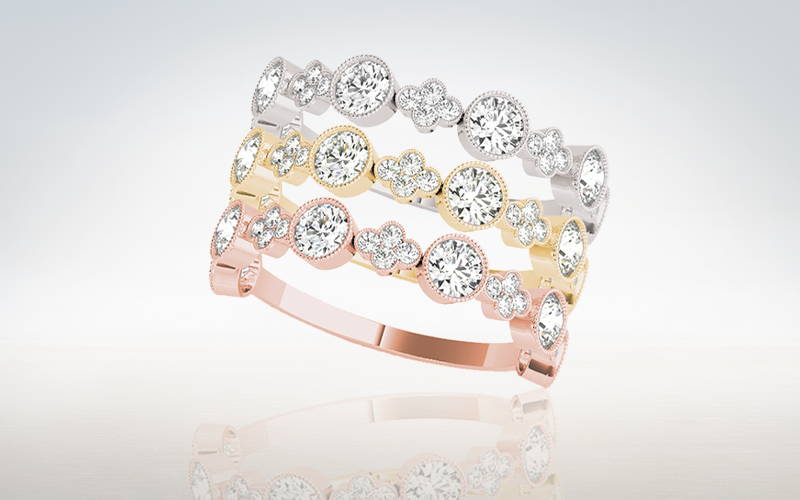 It's often a buildable right hand expression of your style that is appealing because you can adjust your look to fit your personal style. It's two or more diamond rings stacked on top of each other for an amplified impression. Shift, change and explore what works for you.

Whether you are looking for an aesthetically pleasing delicate style or a bold flashy design, stackable rings are versatile to fit your need.

The attraction to stackable rings is the freedom to express your style with your personal collection. Stackables are flexible and come in a wide variety of designs to pair together to complement and make your outfit amazing!
You can make a stunning lab-created diamond ring stack fancy or casual, dramatic or intriguing – there is an endless list of attributes based on your taste. Express sentimental moments of your personal story or convey your feelings in a sparkling representation of your mood.
There is no wrong way to wear stackable rings. Perhaps you want to incorporate a family heirloom with a new diamond piece give a more honored look combining past and present. Maybe you want an incredibly sleek and contemporary look for a professional setting or minimalist appeal.
Or maybe you are a little eccentric and need a playful and colorful stack with different stone sizes and gem types bringing out an astonishing and bold fashion sense. Be inspired by the world around you and stack your rings in an interesting way that best reflects your attitude.
Contrasting stackable rings can emphasize attraction to a clean-lined outfit or simple clothing. Accessorize elegant clothes with a twist by decorating your fingers with delicate stacked rings. Need more confidence, more affluence, or more romance? Stackable rings can exude anything your heart desires to reflect.
You can add texture like filigree or a detailed finish that gives a vintage look. You can balance your hands from a wedding or engagement ring on the left with a distinct or romantic look on the right hand. Bottom line, stackable rings accommodate you and are worth the investment.
A surprising unknown fact is that stackable diamond rings are affordable!
You can build an amazing collection without breaking the bank. Absolutely breathtaking diamond rings paired with precious metals and even possibly other gemstones you can still afford and a cohesive uniform look that is not repetitive.
Any occasion to illuminate your hand with diamonds is worth a stackable ring.
Holidays, birthdays, life events and even business functions are worth joining the finger party. Stimulate your creative spirit and accessorize a chic, funky, daring, cool or even comfy look with stackable rings.
They are the very definition of assembly the ultimate representation of you and your trendy style!